Fiv-team turns Fiv-teen
19 April 2021
Fivium celebrates its fifteenth birthday
This month Fivium celebrates fifteen years of making the work of the public sector easier and simpler. It all began back in 2006 when Fivium's five original co-founders were working at the then Department for Trade and Industry and were approached to save a failing export licensing project that was running over time and over budget. From this, Fivium was born, the project was saved, and the company has never looked back.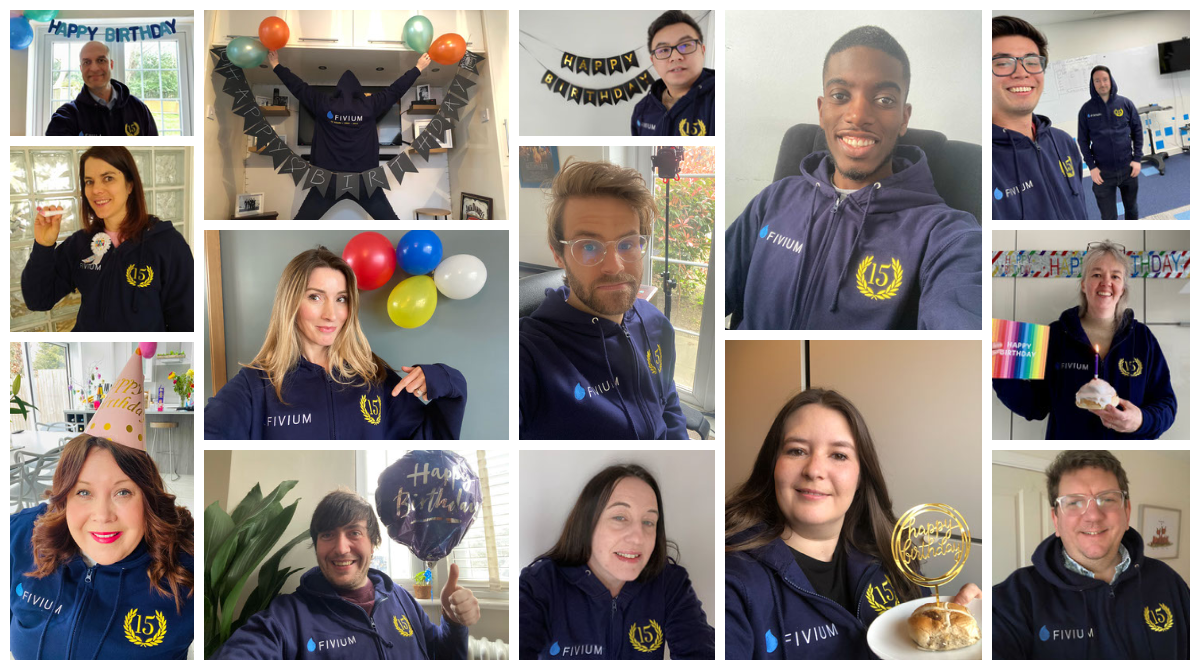 Fifteen years later, Fivium has successfully maintained its focus on delivering service excellence and real value to its public sector customers and has now become one of the largest SME suppliers to the UK Government, with customers including the Home Office, DfE and HMRC. Work has included:
A licensing management solution for the Oil and Gas Authority that manages and monitors regulation across the entire North Sea
A grants applications management service for the Adoption support fund, helping adopted and looked after children access vital support services
A centralised end-to-end solution for processing export licence applications for goods controlled by the UK government
The Environmental and Emissions Monitoring System that monitors greenhouse gas data captured from Oil companies
eCase - an information rights and correspondence case management service used by over 50% of Tier 1 Central Government departments, and throughout the public sector including Government agencies, Local Government and Police
Many more purpose-built licensing, application, and case management solutions for our government clients.
Over these years the company has grown to over 60 employees with offices based on the Strand.
"In creating Fivium we have had two main aims: to build a software and services business that really makes a difference to the way government works, and to provide a great working environment with opportunities that allow our staff to grow their career over the longer term. These two aims work hand in hand; both are needed for the business to succeed and we take great pride in seeing flourishing partnerships forged between our team and our customers' teams." Matt Fletcher, Co-Founder, Fivium
"From the beginning, we have always set out to build the kind of company that we would want to work for, one that truly values its people and focuses on delivering positive outcomes for its customers. This has resulted in extremely low staff turnover (a considerable number of our staff have been with us for over 10 years and over half the team for over 5 years) and a customer retention rate of 98%. After 15 years, I'm pleased to say we are exceeding the goals we set out to achieve." Anthony Ashton, Co-Founder, Fivium
"I've been working here since the very early days of Fivium. Over that time I've seen its growth from a handful of developers into the company we are today. I enjoy working for a company that clearly cares for and retains its staff. Right from day one, there were regular socials and events, recognising early on the importance of its people being at the heart of the company. This people-centred approach leads to an open and collaborative workplace where everyone at all levels of the company are encouraged to contribute ideas and feel part of something bigger. Now, working in a role where I rely heavily on the experience and expertise of colleagues across departments, this "team Fivium" mentality remains and is hugely valuable." Phil Porter, Senior Support Manager, Fivium