Fivium Digital deliver redesigned Energy Technology List website to help the UK meet Net-Zero 2050
20 November 2020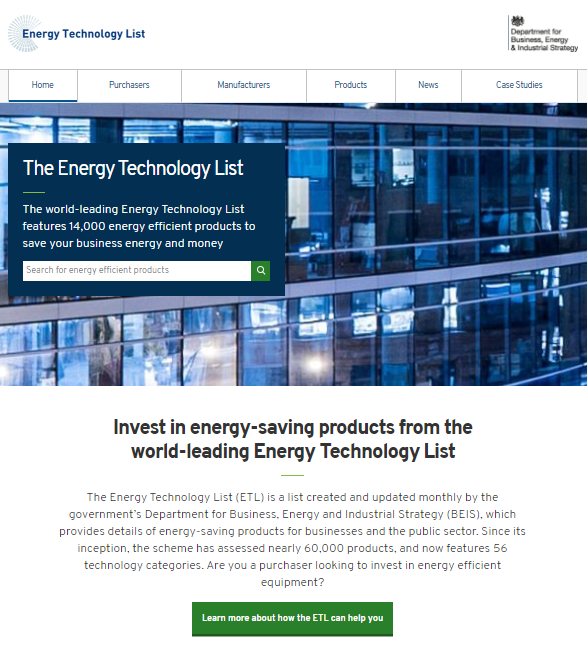 Fivium Digital are proud to have launched the redesigned website for the Energy Technology List (ETL) this week, a key part of the Prime Minister's Ten Point Plan for a Green Industrial Revolution.
Built in close collaboration with the Department for Business, Energy and Industrial Strategy (BEIS), the ETL is a database of over 14,000 energy-efficient products, certified by BEIS to be amongst the top-performing products available. The ETL is used across every area of industry to find the most efficient products in categories including boilers, hand dryers, building heating and cooling equipment, industrial motors and more. Selecting ETL-listed products saves businesses millions of pounds in running costs and results in annual emissions reductions for the UK of 0.4 million tons of CO2 equivalent - the same as taking 87,000 passenger cars off the road each year.
Featuring in point 7 of the new ten point plan, the redesigned website delivers a host of features to make it quicker and easier for businesses to find energy-efficient products that fit their needs, including product images, product category browsing, filterable search results and the ability to compare products side-by-side.
Development of the redesigned site began in March 2020 and comprised several rounds of design, development, user research and usability testing. This ensured the service would provide a significantly improved experience to users.
Fivium Digital worked closely with energy-saving specialists at The Carbon Trust and ICF to deliver the new service. Matt Eason, a Lead Developer at Fivium Digital, said: "The new ETL website is the latest example of the real-world impact our projects have, and we're very pleased that the government has recognised the potential of the ETL to contribute to the UK's target of net zero greenhouse gas emissions by 2050. Working with experts from BEIS, Carbon Trust and ICF was a brilliant experience and helped us to deliver a service that meets the needs of industry users whilst being modern, intuitive and easy to use."
The new ETL website is available at
etl.beis.gov.uk
. If you'd like to join us and work on projects that make a real difference, like the ETL or the
Adoption Support Fund
, find out more about
careers at Fivium
.