Fivium to exhibit eCase at key Information Practitioner event
2 June 2017
2nd June 2017, Fivium Ltd, London – the workflow and services experts behind eCase, the public sector case management system for all correspondence case types including FOIs, SARs, PQs, MCs and complaints – are delighted to announce that they will be showing eCase at the National Police Chiefs' Council (NPCC) Professional Development event for Information Practitioners.
The packed programme provides insights into information laws and their implementation, including keynote addresses from senior individuals across the Information Professional and Policing spectrum. In addition, themed workshops will give Information Professionals the opportunity to discuss and share thoughts on key topics impacting them and their work now.
Talking about the upcoming Information Practitioner event, National Police Freedom of Information and Data Protection Unit Manager, and Event Host, Colin Ley-Smith said "We are all really looking forward to it and it's great to be running an event that's tailored to the specific needs of the Information Professional. This event gives our Information Practitioners the opportunity to share knowledge, experiences and best practice. And, by working together, we'll get to solutions quicker."
Fivium Director Matthew Fletcher said "We are extremely pleased to be exhibiting. eCase has been designed to help Information Professionals in the Police manage correspondence cases and information requests quicker and better, from anywhere, securely. We already have a number of Police forces who are eCase customers and eCase is already on the PNN. This event gives them the opportunity to see the benefits of using eCase for themselves."
Find out more about eCase at eCase.co.uk
About Fivium
We're a London-based SME offering our highly successful Case Management product, eCase, as well as fully customised specialist applications, workflow expertise and bespoke IT services to the UK public sector. We're entirely self-financed and we don't have sales people. Our organic growth has come from our friendly and approachable team, which has led to a fantastic track record of improving user experiences.
We believe our products and services have significant benefits for all public sector organisations: Central Government, Local Government, Non-departmental Public Bodies, NHS, Ambulance, Fire and Police services.
We provide an engaging and creative environment for our staff, and support graduate developers entering the workforce with the aim of delivering a superior service to our customers.
In a customer survey conducted by VisionOne Research in 2015, 100% of Fivium Customers rated its service, its support and Service delivery as good or very good (where very good was the highest) and 96% rated Fivium developers as good or very good. In addition, 91% talked positively about Fivium, and 84% rated Fivium as better or significantly better than its competitors.
About eCase
eCase is a comprehensive and intuitive case management system for the UK public sector.
Public sector organisations rely on eCase to help them manage and meet the tight deadlines of a range of cases, correspondence and request types.
Cases handled through eCase include: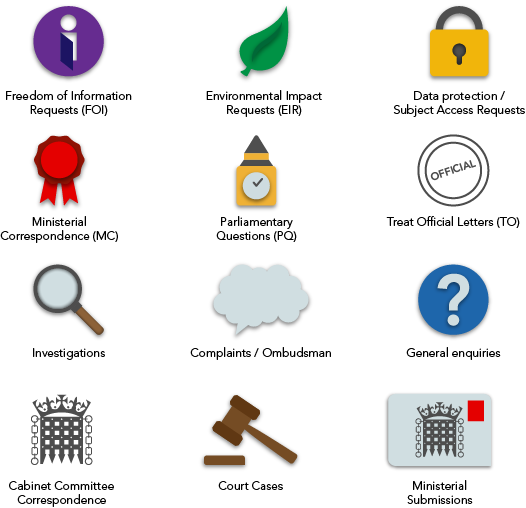 eCase helps manage caseloads for individuals and teams, and ensure responses are timely, consistent and quality assured. Case workers have individual logins and workbaskets which they use to manage their caseload.
Case drafters, subject matter experts, managers and reviewers can all collaborate instantly through cloud-based eCase. eCase Manages the process, so you can focus on the response. This means that processing these cases through eCase is faster, cheaper and more secure.