International Women's Day 2023: What Does Equity Mean?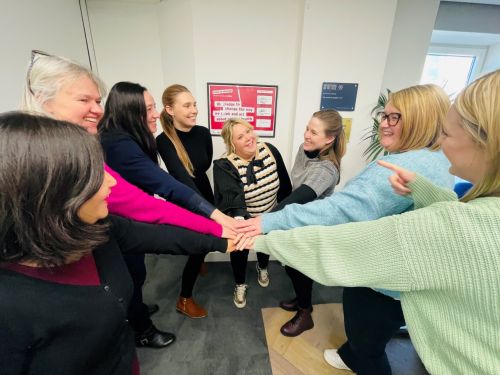 In the last 53 years, since the Equal Pay Act, the UK has made massive strides towards making the workplace more equal. Now, more than ever, the idea of a gender-equal world: a world free from bias, stereotypes and discrimination seems achievable.
There is still, however, a long way to go. Discrimination based on gender is still a very real thing. The first gender pay gap reporting requirements only came into force 6 years ago. And there are still gaps.
For Fivium, International Women's Day represents an opportunity to celebrate our achievements in striving to embrace equity and also to learn what more needs to be done to ensure complete equity is fulfilled.
Our goal is to ensure equity for all our employees, regardless of demographic or circumstances. We understand that the requirements to achieve equity are different for every individual and an understanding of each and every member of Fivium is needed to realise this. At Fivium we believe our most important attribute for successful equity is listening.
For International Women's Day 2023 we've asked some of the Fivium community to let us know what equity means to them:

Mel:
"Equity is a new concept to me. In my previous role, I was still very much fighting for equality. I knew every day that I was female. Sometimes this was an advantage, sometimes not. I was often overlooked. There was the difficult thing when I would give an opinion and it would be ignored, but then a male counterpart would then say the same thing and have it accepted. I think it's time that everyone was educated that gender does not define a person's working ability – we should be accepted for being a person. Fivium has shown me that this acceptance is real and possible today. Now I can just get on with my job. As women, we need to educate ourselves into supporting each other more and making positive changes now to make a difference for future generations so everyone gets the experience I get at Fivium every day."

Louisa:
"Despite being young enough to be referred to as a Millennial, I am old enough to remember when words like equity and equality were buzzwords thrown around by marketing departments, but sadly not put into practice by some business leaders. When people started to seek change and demand workplaces where equality was a 'must have', not a 'nice to have' as a woman, mother to daughters, and HR Manager I was overjoyed. Fivium has always been refreshingly different: supportive and inclusive are words that sit at the core of everything they do and I'm delighted the rest of the world is following suit. As a generation, we are encouraged more than ever to call out these behaviours, hold leaders accountable and force positive change. I feel confident that when my now 5-year-old enters the workplace, equity will be something that has been embraced by all and inequity and inequality are simply things of the past that are neither tolerated nor ignored."


Nicola:

"Equity to me is being treated fairly as an individual, based on skills rather than gender or ethnicity. Having a voice being listened to based on knowledge, and having the ability to progress in my career using my skills is really important to me. In my household, I have worked whilst my kids' dad has stayed home to raise them, but it's been essential to me for my kids to see both of us managing home life equally and not apportioning DIY, cleaning and cooking tasks to anyone in the household, based on gender. Fivium has given me the opportunity to ensure that my family and I can function effectively as I want it to. My partner is freelance and Fivium has been flexible and adapted working hours and place of work so I can still support my family and deliver my work effectively. At Fivium I get the benefit of never having to think about equity, because we all just have it, so I can focus on my job."


Catriona:
"For me, Equity means having the means and opportunity to use my 'talents' / skills in the time I have available. What's most important to me is balancing life and work: doing the best I can to be a good, supportive, present parent whilst doing meaningful, worthwhile work in my professional life even though I'm 'part-time'. I believe that it is absolutely possible to deliver great work AND work part-time, it's all about how you package what's included in a role. What Fivium has given me for the first time in my career is exactly this: my gender and my part-time status do not even enter the equation. I'm loving my work, feeling challenged and positive professionally whilst managing that delicate balance"

What is particularly evident to us as an organisation is that everyone has different needs, different circumstances, and different ideas when it comes to achieving equity. The best thing that organisations can do is to listen, learn, adapt, and find the right solution for each individual.

For more information on how Fivium are working to achieve equity for our individual team members see how we are bucking the trend on the tech gender pay gap and supporting our people's health and wellbeing.